About D and J Creative Care


We are a fully licensed, family home-style care facility. Our staff is CPR, First Aid, Preventative health and Safety Certified. Safety, enrichment and developmental growth are our focus at D&J's Creative Care and we look forward to the opportunity to work with you in the effort of making your child's today the strong and formative foundation of tomorrow. The daycare area is set up as a Neverland of learning, with a homey, comfortable area for children to play and have adventures, as well as create and learn new things as their minds expand and grow.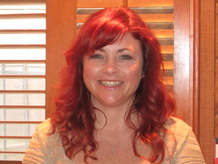 Debbie
A loving mother of two has over 16 years of child care experience and is certified in both infant and toddler CPR. With the ability to cultivate self-esteem and the desire to accomplish, Debbie helps children foster the desire to enjoy and excel in areas such as reading, problem solving and potty training. Her friendly demeanor is comforting and reassuring for young infants away from parents for the first time. Debbie's concentrations also include strong development of shape, alphabet and number recognition in fun and imaginative ways that not only challenge, but engage children in fun and innovative ways.

"My biggest joy is watching children's eyes light up with excitement as they learn something new!"



_M

_