Come Visit Us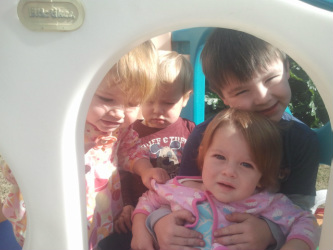 We truly believe that a child's constructive early life experiences help to stimulate and cultivate positive future growth. Children deserve to be treated and respected as individuals in an environment that welcomes reason, exploration, curiosity, imagination and compassion. We respect each child's need for love, security, acceptance and warmth, as well as mental and physical stimulation.

We believe in providing a nourishing environment for infants and children to have fun, learn and socialize with each other. We have a 1:4 caregiver to children ratio maximum.
We offer age appropriate activities and lesson plans focused around the development of each child. Our goals are confidence building with encouragement and love, education and preparation for a successful future.

Our flexible daily program will respond to the needs and interests of the child, individually, as well as in a group setting.



---